KOTTERMANN GMBH & CO.
(Modular Lab-Furniture)
Agilent Technologies/HP
(Analytical Instruments)
HERMLE LABORTECHNIK
(Laboratory Centrifuges)
ELE International
(Materials Testing Equipment)
EIJELKAMP
(Soil Testing)
HACH
(Water Testing)
LOVIBOND
(Water Testing)
SOCOREX
(Digital Dispenser)
MERCK
(Laboratory Chemicals)
Cole-Parmer
(Equipment / Apparatus)
OXOID
(Culture Media)
BIBBY/PYREX
(Laboratory Glassware)
MEMMERT
(Ovens and Incubators)
GFL
(Laboratory Shakers)
KOMYOKITAGAWA
(Precision Gas Detectors)
TOYO ADVANTEC
(Filter Paper and Membranes)
STANHOPE-SETA
(Oil & Gas Testing Equipment)
DRAGER
(Industrial Safety Equipment)

A COMPLETE SERVICE PACKAGE
Köttermann sees itself as service provider for total laboratory solutions – from consultancy, through installation to maintenance. We offer you a comprehensive package of service and support.
GOOD ADVICE
You're planning a new laboratory or want to upgrade an existing system?
Contact Köttermann! Make sure you get precisely the laboratory furniture you want and need to suit your budget together with upgrade options. Our trained and experienced staff are there to help and advise you.
PERFECT PLANNING
We can use our proprietary AutoCad-based software to produce 2D and 3D drawings of your new lab as planning progresses. These images offer you a highly effective way of checking our concept against your requirements. You can check workflow patterns and whether we're utilising the available space to your satisfaction.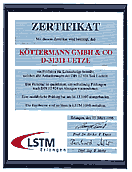 PRODUCTS MADE TO MEASURE
Our laboratory furniture systems are made to order and manufactured to comply fully with national safety standards and relevant legislation.
Our routine quality assurance during production is your guarantee of the functionality and safety of our products. Köttermann has a certified test lab where we check out customised fume cupboards, perform type testing of standard fume cupboards to DIN, BS and AFNOR specifications and carry out spot checks on series fume cupboards.
PROFESSIONAL SHIPMENT AND INSTALLATION
Our haulage experts transport the furniture in special trucks. Trained teams assemble and install your laboratory with due attention to local rules and regulations. We also offer a comprehensive service for the critical area of ventilation management.
AT YOUR SERVICE
With our Service Check you get a safer laboratoy and the assurance of being compliant with relevant safety legislation. Have regular, annual, on-site inspections of all safety-critical components carried out by experienced Köttermann technicians to ensure optimum fuctioning and safety at all times.
100% RECYCLABLE
The Köttermann Systemlabor has many good qualities; largely due to the fact that it is made of steel. This means that all units combine high quality and longevity with 100% recyclability.
If at some time in the future you should need a new laboratory system, we will take back your old Köttermann system. We work with partners who dismantle the units and recycle the steel.
LET'S LEASE
With Köttermann leasing schemes you get the best of both worlds, because you get a high-quality Systemlabor on favourable terms combined with perfect service. At Köttermann you can do more than just lease products. You can have the whole professional service package as well: from shipping and assembly to installation, maintenance and recycling. There's nothing to beat it!